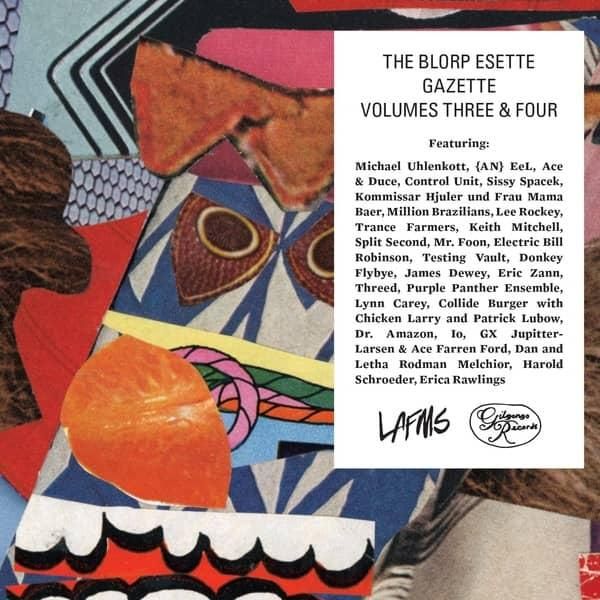 LAFMS 周辺の音源をアウトプットするシリーズ『The Blorp Esette Gazette』の ''Volumes Three'' と ''Four'' が約9年ぶりに2枚組CDとしてリリース。Ace Farren Ford と Ju Suk Reet Meate がコンパイル。
Various / The Blorp Esette Gazette Volumes Three & Four (2CD)
2,690円
InStock
Gilgongo Records (GGGR-127)
Various / The Blorp Esette Gazette Volumes Three & Four (2CD)


features: Michael Uhlenkott, (AN) EeL, Ace & Duce, Control Unit, Sissy Spacek, Kommissar Hjuler und Frau Mama Baer, Million Brazillians, Lee Rockey, Trance Farmers, Keith Mitchell, Split Second, Mr. Foon, Electric Bill Robinson, Testing Vault, Donkey Flybye, James Dewey, Eric Zann, Threed, Purple Panther Ensemble, Lynn Carey, Collide Burger with Chicken Larry and Patrick Lubow, Dr. Amazon, Io, GX Jupitter-Larsen & Ace Farren Ford, Dan and Letha Rodman Melchoir, Harold Schroeder, Erica Rawlings.

Art direction by John Wiese & Ace Farren Ford, with collages from Cody Brant featured throughout the release.

Each 'issue' of the Gazette features a visual artist (Vol. 1 was Ace Farren Ford, Vol. 2 was Rick Potts).
6月8日から6月11日まで出荷業務はお休みさせていただきます。 6月7日12時以降のご注文は、6月12日より順次対応させていただきます。
| 納品書・領収書 | ペーパーレスの目的から「納品書」は発行していません。領収書を希望のお客様は注文時に「領収書希望」項目にチェックを入れて下さい。手書き領収書は発行していません。
| 不良品について |
再生に影響のある使用前の明らかな盤面キズのみ不良品となります。中古盤は原則、返品対象外。輸入盤は流通過程においてジャケット、プラケースなど破損が多少生じることもあります。ご了承下さい。
詳細
この商品を購入する
Related Items
14,890円

Matiere Memoire レーベルの MMXX シリーズ第1弾です。この第1弾では、Franck Vigroux、John Duncan、CM Von Hausswolff、Reinier Van Houdt、Daniel Menche の作品がリリース。

2,050円

Jazkamer、Nash Kontroll などでも知られる前衛音楽家 LASSE MARHAUG と、Smegma のメンバー JOHN WIESE が、スプリット・カセットのために1997年に録音した音源が20年の時を経て7インチにて発表。

3,860円

LAFMS の拠点となった「35 S. Raymond」で1976年1月下旬に行われた、Dennis Duck、Juan Gomez、Harold Schroeder、Tom Recchion、そして Ju Suk Reet Meate と Ace によるセッションを収録。